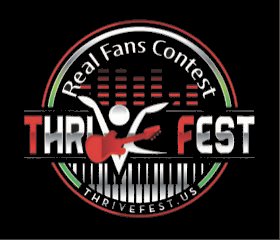 "REAL FANS" Contest
GOT 10,000 "REAL" FANS YET?
Only Reverb Nation Artists can enter …
The "REAL FANS" contest offers 3 winning Reverb Nation Artists the opportunity to WIN an exclusive slot on an exciting new marketing platform that can exponentially grow your "real" fan mailing list.
What are "REAL FANS?"
* Real Fans are what every artist needs to guarantee a sustainable and thriving music career. Real Fans are music connoisseurs who are knowledgeable and absolutely passionate about music and follow the careers of the artists they love. 
* Real Fans buy all your music, support your fund-raising campaigns for new projects, introduce others to your music on social media, go to the ends of the Earth to attend your concerts or to get your band booked in their hometown.
* Real Fans are always on the lookout for new artists.
* Real Fans can be accomplished musicians themselves or hobbyists, podcasters, DJs, venue promoters, publicists, or music industry pros who are interested in discovering and supporting YOUR music!
1. Downloadable MP3 of "radio ready" song
2. Artist website with high rez images and with information about you/your band that can be used for promotional purposes.
3. Best contact information — email and text.
Who Are We? 
ThriveFest is devoted to serving artists and bands whose music deserves to be heard through promotional campaigns and concert venues. 
ThriveFest is founded and run by musicians with a commitment to sustainability for artists, the Planet and environment, and humanity at large.
We are offering The Real Fans Contest as a post-COVID jumpstart to help artists get back out there in the realworld with their music — introducing your music to REAL FANS who are ready and hungry for it!!!
(Your information is safe with us–we will not sell or give away your contact info)
Three winners will receive slots on an exclusive new marketing platform ($500-value!).
Music submissions will be reviewed, and winners will be selected by a panel of musicians and industry professionals.
Deadline for entering is June 30, 2021.  Contest winners will be announced in July.
ENTER TODAY TO WIN!!!